Motorcycle Kickstands
Fastway by Pro Moto Billet Kickstands are often called the "Granddaddy of all motocross kickstands". They have no equal. Easy to install, superior strength, long lifespan and lightweight design are what make this the kickstand of choice for many Factory ISDE and Pro Enduro riders. Designed to stay up and out of the way no matter the riding conditions and there when you need it.


Strength Re-Invented
We've re-invented the best kickstand ever invented...Ours. On the left you can see the old clip which resisted hundreds of pounds of force before releasing. On the right you can see our new spiral clip retainer, which takes thousands of pounds of force to remove– and actually deforms the washer before it lets go. Now we use 2 of them to lock each kickstand together! Check it out in the cutaway views below.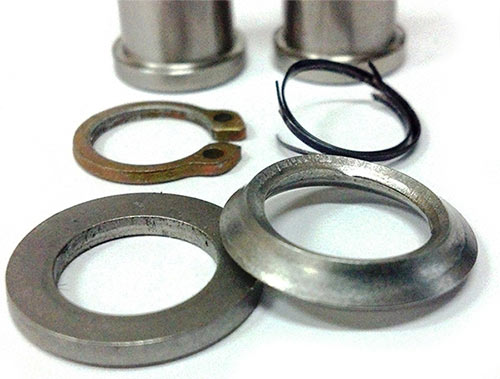 Stronger than ever
New Metal Backplates

New pressed-in pivot
Pure Function
Who carries a triangle or stand when they ride? Bolt your new Pro Moto Billet kickstand on, and never worry about it again. And they're nice for the environment– no need to lean your bike up against mother nature next time you take a break.
Our Motorcycle Kickstands
Stay down when you put them down
Absolutely stay up when you put them up
Are out of the way and quiet while riding
There when you need it
And they look like art on your bike. Available in clear hard anodizing for most models, and in black for late model KTM, Husqvarna and Husabergs.


Re-Inventing the Sissy Stick